You Will Have Heard About Latest Google Algorithm Update
It is vital that you as a business owner understands what this update will include as it will affect your website's Google performance in time to come. If this makes you feel uncomfortable, or uneasy, or maybe vaguely uncertain, then this article will give you the information you need in order to ensure your digital presence can cope.
Page Experience Including Core Web Vitals Soon To Be A Ranking Factor
It is worth knowing and acknowledging that Google has thousands of algorithm updates every year.
Link to https://www.searchenginejournal.com/google-algorithm-history/
Before panic mode sets in, we can assure you that many involve small changes.
Occasionally we do see a core update which can affect your websites ranking in the search results, and this latest algorithm, which was announced some time ago, is one such important update.
It includes important factors including Page Experience and Core Web Vitals.
What Is The Page Experience Update, And What Are Core Web Vitals?
As a business owner, you will be familiar with one or both terms and if not, don't worry as there is help at hand.
The Page Experience ranking factor is a measure of how much people enjoy interacting with a page beyond the information value of that page.
This includes web pages of YOUR website, as Google will leave 'no stone unturned'.
Google says: "We will prioritise pages with the best information overall, even if some aspects of page experience are subpar". So, what the heck does this mean? In short, it means your content needs to be great and the page experience needs to be great.
Now, we need to be very careful here. What YOU think is great might or might not tally with Google's complex algorithm settings. It could be you need to ramp up your Page Experience, refine it, define it and basically thrash your competitors by doing so. The key advice here is don't assume your Page Experience is good enough because doing so could be a big mistake. You must also take into considering the Core Web Vitals, which we will explain next.
For the Core Web Vitals, there are no less than three new additions to the Page Experience ranking factor, as follows:
Largest Contentful Paint (LCP) – This rather complex term measures how quickly a webpage loads for potential or returning customers. We aim for a page to load within 3 seconds, ideally less. This has always been an important element of a website's performance, however now it is essential that you have good page load speeds.
At Bloom Digital Marketing, if you're an existing customer and on our mid-level plan, then you already optimised for speed. However, if not, now's the time to consider moving your plan to this very effective one that meets at least one of the expectations of the new Google algorithm.
First Input Delay (FID) – Yet another fancy way of saying it measures interactivity and page responsiveness. An example maybe a customer trying to click an element on the screen, and yet the browser is still busy loading another element on the screen. Making this a smoother and quicker experience for your customers is something we can help with in our competitively priced full package. This involves some dextrous work by our web developers, and we are fully able to improve this for you.
Cumulative Layout Shift (CLS) – The final Core Web Vital is so named as it measures unanticipated layout movement on a page. For example, sliders and things moving about. The key word here is unanticipated. This means that it really shouldn't be taking place as it is detrimental to the Page Experience of your website visitors.
What we also have to remember is that your competitors will also be 'onto this'! They will not hesitate to jump ahead of you by dealing with the Core Web Vitals detailed above.
Some Elements That Your Competitors Might Not Know About
We've outlined the important Core Web Vitals metrics above and while the terminology is relatively easy to understand, the level of work that needs to be carried out for your website to deliver is significant. As a business you need to know that your web developer has all this in hand and their expertise is already helping you meet these stringent parameters.
However, what some businesses don't know is that the Core Web Vitals are being paired with the following four existing signals which 'round out' Google's understanding of Page Experience:
Mobile-Friendly – A measure of mobile phone usability and responsiveness of a page. And no, tiny unreadable content, some frustrated nipping of a smart phone screen and flipping your phone from landscape to portrait viewing does not constitute a mobile optimised website; in fact, far from it! We've had smart phones for a while now, so this is a particularly important element.
Safe Browsing – Identifies security issues on a page so if your website does not meet safe browsing standards, then this is not good news. You need to know that your web developer has this sorted.
HTTPS – Confirms pages are using an SSL protocol, and again, it's surprising how many websites do not do this. Are you sure yours meets this standard? Any website developed and designed by Bloom Digital Marketing has this covered.
No Intrusive Interstitials – Determines if pages have unwanted pop-ups. We all know how frustrating these can be! Who hasn't bounced off a website as a pop-up appears and interrupts your website 'journey'? There is huge difference between this and a well-placed call to action prompt …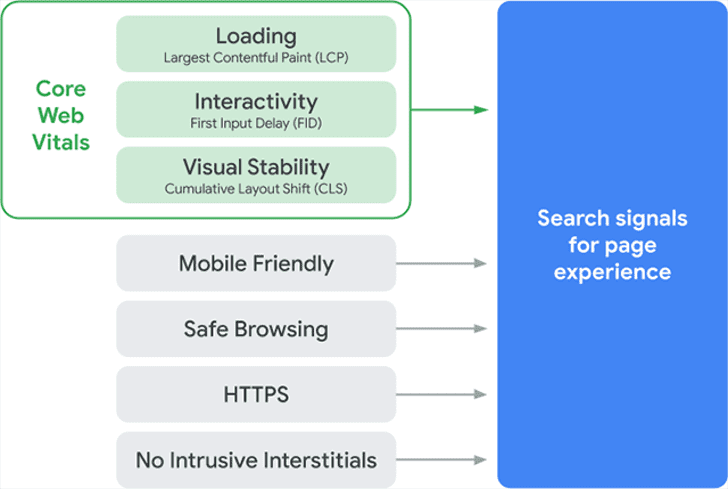 How Bloom Digital Marketing Is Managing This Important Digital Update
Education – We've created this blog to help clients and website owners understand what this means without too much technical blah blah.
Too much blah blah can mean you are simply overwhelmed and what you really want is a team that can offer a package that is affordable and takes care of these elements while you run your business.
We don't believe in mystifying the digital world. We simply want to encourage, educate and enable businesses to get a great position on Google and keep getting those all-important sales leads.
Communication – We will automatically audit all our clients' websites who are on our helpful Care Plans as per the link below. https://bloomdigitalmarketing.uk/care-plans/.
If you are a website owner and you are concerned, particularly if your own web designer or similar has been either silent or uncommunicative, then please get in touch about our Care Plans and we can get you back on track.
Action – We have included a Core Web Vitals Audit & Fix to our already comprehensive middle range and high range Care Plans so that we can monitor & maintain this on a regular basis.
And guess what, we don't just expect YOU to let us know your concerns.
We will be in touch with ALL our existing clients on an individual basis if your website fails the audit.  We will list out any action items and these will be actioned using your support time.
However, if you are reading this and you're one of our amazing legacy clients, then you will not be on any of these Care Plans so you will need to sign up for one of them in order to get the benefit of this important element of Bloom Digital Marketing's portfolio.
Bloom's Care Plans are carefully designed and priced to include the expertise and knowledge our team has, and which can be most beneficial to our clients.
As the saying goes, there is no such thing as a free lunch and in the world of Google's Algorithms, you need a team that knows what it's doing.
How Much Work Will My Website Need?
For this important work, there is no such thing a guesswork.
As we start the audit process for our existing middle range and top range clients, we will then see how much work might be involved. For some it will be minimal as BloomDigital Marketing has kept tabs on Google's expectations for some time.
If your website is more complex, then the audit might reveal some ways we can improve it and how it can be done for you by our team.
How Will I Know If My Site Has Passed The Test?
Did you know that ALL our client sites are set up and managed in Google Search Console. This is good news and is worth refreshing your memory that we do this as standard for our clients.
As a reminder, Search Console tools and reports help to measure your site's search traffic and performance, fix issues, and make your site 'shine' in Google Search results.
If you are not a Bloom client and have access to Google Search Console this is where you can check >>
What Do I Do Next?
The first thing is, don't panic!
The second thing is, don't ignore it!
Our team is looking forward to hearing from our legacy clients, clients who want to have the benefits of our helpful and effective Care Plans and of course brand-new clients are most welcome!
It has never been a better time to step up your website's presence on Google.