Copywriting … Are You Missing the Point?
Copywriting is one of the key elements of your online marketing campaign.
This includes content specifically written for your website, your email marketing campaigns and your blogs.
Good quality copywriting not only pleases Google, it can also help attract and convert more customers.
Yet copywriting is a very misunderstood term and is a vastly underrated skill.
Bloom Digital Marketing has got it covered … and then some! … with our expert team that includes a dedicated copywriter. 
What is Copywriting?
While we can accept copywriting is important, let's go back a step.
Just what IS copywriting?
Simply put, copywriting is the skilful writing of text or content that will sell a product or service.
Yet the skillset involved is anything BUT simple!
Copywriting, sometimes called sales copy, is the crux of any online platform including websites, email campaigns, social media platforms and more.
While a picture says a thousand words, great copywriting or content creation will say it – and have an impact – in a way that uses words that are relevant, persuasive and that will offer a solution to a problem.
If you read great copy or content, then you take it for granted.
Likewise, poorly written, badly researched content sticks out like a sore thumb.
Copywriting is usually in the written word, yet can also be vocally expressed, and effective copy can ensure someone takes action after reading or hearing the content.
An intrinsic element of copywriting is the 'call to action'.
It will offer the answer or the solution to a problem, anything from a blocked drain to selling a new kitchen.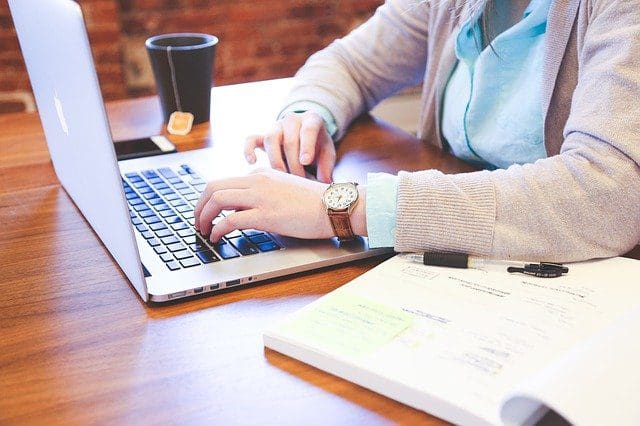 Why is Copywriting Important?
It creates the right impression … from correct spelling and grammar to offering an accurate, engaging reading (or listening) experience, the result is that your customers are convinced you are the right person or business for them.
Great content enables your brand to be clearly defined and get noticed.
And once your branding is getting 'out there', then it is only a matter of time before customers come to you.
Great content establishes a relationship between you, the business owner, and your customer(s).
As well as reading your content, a customer will nod to themselves as they read … saying inwardly, this is exactly what I'm looking for. How do I get in touch? Where do I sign?
How Does Copywriting Solve a Problem?
It can be argued that the ultimate task of the copywriter is to solve a problem.
Not just one problem, but multiple, complex and overlapping problems.
The first problem is that you as a business want more customers.
Loyal customers.
Customers that will recommend you. Customers that will pay on time and become your 'brand ambassadors'.
Then of course there's the problem of getting noticed on mighty search engines such as Google.
This involves a number of overlapping skills, including Search Engine Optimisation, keyword research and more.
And as if these weren't sufficient obstacles, let's throw in the problem your customers are facing.
Of course, each customer has a different problem. It could be they need a new car. A new heating system. A new website!
Let's put it another way … a good copywriter will address a number of needs in the content they produce.
The ultimate aim is that it sells your products and services, so you don't have to!
Copywriting and the User Experience
It is often said that people can't be bothered to read anymore.
This simply isn't the case.
What has changed is HOW people read and HOW the content is presented.
Your customers definitely read content and while there are huge amounts of content trying to grab their attention, there is a secret which narrows down the field considerably, so YOUR content reaches the RIGHT person or customer.
So, let's use an example.
You need a good interior designer.
Your first port of call might be to ask someone either verbally or on a social media platform for recommendations.
Friends will recommend A, B and C.
Then you'll nip onto their respective websites or their Google listings.
From the content you see on their digital platforms, you can see they are reliable, qualified and trustworthy with some fabulous case studies.
Yet interior designer B engages your attention the most because they:
They seem to know EXACTLY what you want
They offer the PERFECT answer to your problem
They have a great portfolio and case study section on their website
They are fully qualified and trustworthy
They cover your geographical area
You got all these 'thumbs up' from the content on their website, their Google listing and maybe from other platforms such as their blog or social media presence.
And while this seems an obvious way to approach great copywriting, it's very skilful and can take time to perfect.
What Are the Different Types of Copywriting?
From a catchy slogan (Beanz Meanz Heinz) to a fully developed, optimised website, copywriting as a term covers a large array of content creation and outlets.
And for those of you who've tried to write their own content, you'll know how difficult it is to do well.
Content is needed for your web pages, landing pages, blog posts, product descriptions, email marketing campaigns, social media platforms, PR, sales collateral and advertising streams.
Of course, there has to be a cohesive element to all these platforms.
And they must all satisfy numerous needs and solve several, inextricably linked problems.
What is Social Proof Copywriting?
If you still need convincing that copywriting works, then let's turn our thoughts to social proof.
Social proof is the feedback from customers about your business, product, or service.
As a powerful and persuasive tool, basically it goes back to the human need to be liked, respected, and trusted.
Great social proof can be one of the most effective elements of copywriting.
Genuine social proof show that you have the expertise as business owner and that other people have used you and will promote you.
How do customers know you are an expert at what you do?
As well as a customer writing a review or a testimonial, it could be in the form of a blog post which shows you are an expert in your chosen area.
Your expertise is the key element of offering a solution to a problem that your customer or customers have.
Great copywriting will show that you, the owner of the business, offer products and services that will solve the problem.
Your copywriting portfolio should persuade and convince your customers that you know what you're doing. Quickly. Without question.
The customer is then well on the way to buying from you.
Then you need someone to endorse you. Big companies get celebrities to do this.
Yet your brand ambassadors don't necessarily need four million followers on Instagram (although this would be a nice situation to have!).
There is a fly in the ointment, though. If someone's not keen on the celebrity in question, then it could put off potential clients.
And let's face it, many of us simply don't know any celebrities that would endorse you.
So, if you are lacking in this department, then who better to endorse you than your customers?
People who know you.
People who can vouch for you.
People who can say, hand on heart, you're the one other customers can use.
For Bloom Digital Marketing, we have clients who recommend us, and you can see this on our website.  
Why not become one of them?
What is the Next Step?
Gone are the days when light, thin digital content suffices.
The search engines such a Google simply doesn't 'understand' thin, badly written content.
If you have a website that simply isn't getting you the customers you need, then it's time to think long and hard about the next step.
Bloom Digital Marketing includes great content writing, or copywriting, within our packages and programmes and products. 
It is too important to add as an additional service; it is too crucial to overlook and forms the bedrock of your ongoing success.
That's why we have a dedicated person who takes care of this.
Why Copywriting is Part of 'The Deal'
Getting effective copywriting created is no easy task.
First of all, there's all the research and the keyword analysis.
Then there's the thinking time and data research.
After gathering these 'tools', it's time to actually start writing.
As a busy business owner, or someone who is trying to keep lots of plates spinning, then you don't need to worry about getting one of the most important jobs on the list ticked off.
After all, you simply don't have the time!
We guarantee the content will be engaging, encouraging and effective.
And it will be carefully written with SEO in mind. Let us worry about keywords, where to place them and getting your website up on the Google rankings.
We will ensure the copywriting we create will connect with your customer, encourage them to buy from you and they will recommend you to others.