Our Web Design and SEO Programs
Are you ready to start getting serious results?
Digital marketing & SEO that make your company bloom
If your website is letting you down or you're struggling to get more than just word of mouth referrals through the door – you're not alone.
Getting ranked on Google can be quite difficult, especially if you're not exactly sure where to start with all this online marketing business.
We're here though to pull you and your business to the top of the search engines by offering unrivalled website design, SEO (search engine optimisation) services, digital marketing services (and everything else you need!) to reach the right kinds of clients online.
Take a look at the products we offer and get in touch with us to start your business down the road to online success!
Our Programs
to start your business down the road to online success!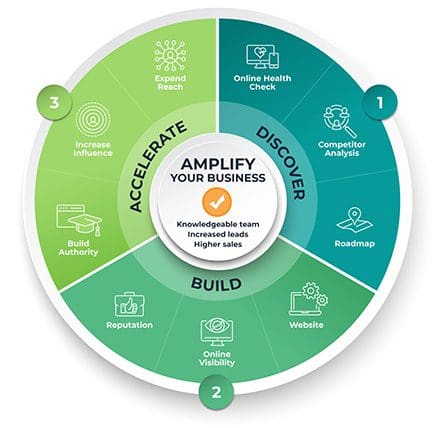 Like your car or your home, you have to give your website regular maintenance to make sure it works efficiently for your business. We can give your business and website a detailed assessment to make sure it's performing well on Google. With our Online Business Health Check-Up, we'll show you how to increase traffic and leads for your business.
Get your SEO on track with our SEO Jumpstart service! If your website isn't showing up on Google then you might need a bit of a push in the right direction. Our team will help you get started by providing you with a 30 day SEO tune-up. Start getting your company noticed more online today!
Are you looking for a great-looking, performance-driven website to show off your unique talents and get more people interested in your work? Do you want your website written, designed, developed, and optimised to appear in the search engines? Our 8 Week Sprint can help you achieve all this. Our team can put together the perfect site for your company.
This 90-day program is ideal for helping you reach out to your local audience. Our team will help you reach more local business by improving your local SEO (search engine optimisation), setting up your Google My Business, and conducting an online business assessment. If you'd like to get the phone ringing with more local calls then the Local Business Booster is perfect for you.
Start your roadmap to success with our 90-Day Accelerator. Let us organise your content for you, help you with some extensive keyword research, and improve your on-site SEO. No matter where you are in terms of your online presence our team is here to make sure you get noticed by your audience. We'll optimise your website so it appears in local searches on Google and gets you more clients!
If you're looking to make an impact online, reach more people, and grow your business then the Business Amplifier Program is ideal for your company. It's a twelve-month strategy that's perfect for companies who are ready to invest in real results. We'll analyse your online presence, find out how we can improve it, build you a fantastic website, optimise your SEO, and create content that'll help expand your reach.
Fancy a quick chat with our digital marketing experts?